---
Your manufacturing operation requires supply partners that understand your needs...
Your need for fast turnaround.
Your need for exceptional quality.
Your need for competitive pricing.
---
At A-FAB we understand.
We offer a truly unique level of flexibility and know-how. As a specialty production shop, our skilled craftsmen are experts in manufacturing medium runs of machined parts.
We strive to understand your manufacturing process and the end use of your products. This understanding enables us to work with you to develop the best possible machining solutions. This way we meet or often exceed delivery and pricing expectations.
Our responsiveness to your needs gives you a reliable source for machining, fabricating, or assembly. Your project may require innovative machining methods, specialty fixtures, or even specially constructed machinery. Whatever manufacturing challenge your project may present, we help you find solutions.
Please visit the following links on the above right, which will show you the various tools, which will give you the results you require.
Call A-FAB for your production-run machining needs.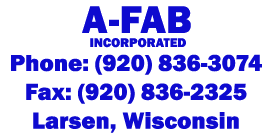 Best viewed with
Microsoft Internet Explorer or Netscape Communicator 4.0
and an 800 X 600-resolution monitor.