Fabrication - Welding - Assembly - Machining - Design
---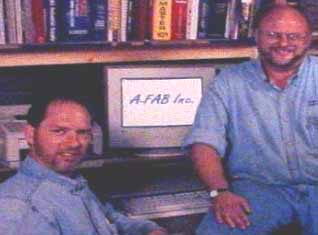 A-FAB History
Lee Fischer and Brian Veldboom incorporated A-FAB in July of 1996. Together they had over 38 years of manufacturing and engineering experience.
They and their employees shared a vision of a specialty production shop specifically devoted to meeting the demands of today's customers.
In 2000 Lee Fischer bought Brian Veldbooms outstanding shares and Brian unfortunately left the corporation.
Over the next three years construction began and was completed on a facility over 4 times as large.
In November of 2003 all equipment was smoothly moved into the new facility and production increased without one late order.
In the spring of 2007 with an eye on customer needs another 25% of floor space was added to this facility.
Today the 1996 vision is still burning bright and we have positioned ourselves with increased capacity, capabilities and talent to better serve our customers needs.